New product listings this week — back by popular demand: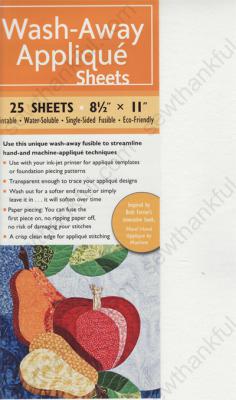 Reg. Price: $15.95 // ON SALE: $13.99
This product has been SOLD OUT and ON BACKORDER at the manufacturer level for many months. I'm happy to announce that the manufacturer has got a new supply and we've got some in stock NOW! Draw appliqué motifs or print them on these handy sheets with an ink-jet printer, fuse the paper to your appliqué fabric, sew on the motif, then just wash away the paper after stitching. Appliqués are soft and flexible without the need to cut your quilt or remove freezer paper. Package of 25 sheets.
Reg. Price: $9.95 // ON SALE: $8.99
Use Carol Doak's fabulous Foundation Paper in most inkjet or laser printers or copy machines with no shrinking, curling, or turning brittle! Paper holds up beautifully during stitching; tears away easily when you're done
What makes Carol Doak's Foundation Paper different?
It is lightweight so it won't create bulk when you join sections
It is absorbent so there is less ink transfer where you don't want it
It is non-coated so fabric won't slip on it
Click here for these and MORE of our most recent product listings…