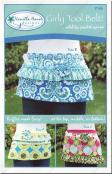 Sewing pattern for pocket aprons with Easy Ruffles.This pattern features Clover's Fuse 'N Gather Tape, making ruffles easier than ever!  Three versions are included. You have the option of using for OR five fabrics, depending upon your preference for variety; and the option of using some fat quarters for convenience!
Great gift-making idea! One size fits most. Apron is 20″ – 22″ wide x 9″ to 11″ long.
This project uses rotary cutting techniques (rotary cutter, clear ruler and grid mat). Paper/tissue pattern pieces are not included.
Instructions are included for making the flower embellishment.