I am frequently asked how I make templates for projects.  I've tried many methods over the years, but the one that works best for me and is absolutely the fastest, easiest and most accurate (in my opinion) is this:
1.  Always protect the original pattern/template piece.  Make a photocopy of your original template piece (make sure it is 100% the original size).
2. Use your favorite adhesive (i.e., I use regular school gluestick or fabric fix spray adhesive) and lightly but thoroughly coat the RIGHT side of the paper template.  Be sure not to over saturate or distort the paper.
3. Place a piece of Quilters Vinyl  or Collins Template Vinyl on top of the paper template (adhesive side to the vinyl).  The Quilters Vinyl should be slightly larger than the template piece(s). Make sure to smooth out any wrinkles.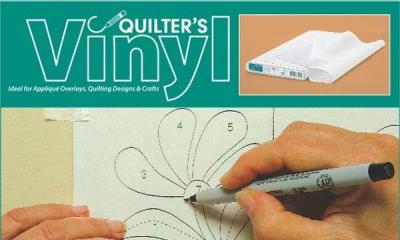 Collins Template Vinyl is available at SewThankful in a package of six  8.5″ x 11″ Sheets.  I ****LOVE**** to use these sheets when I'm making templates that take up the majority of an 8.5″ x 11″ page.
4. Allow adhesive to dry a few moments.  Check to make sure you've got a good adhesion of paper to vinyl.  If needed, add a little more glue or spray around any loose edges and allow to dry.
5. Carefully cut out template piece on the lines using nice, clean, sharp scissors so you have smooth edges.  Oh…did I mention?  Quilters Vinyl and Collins Vinyl are SO EASY to cut.  It's like buttah baby…uh huh!
VOILA!  You have a FABULOUS template ready for tracing.  It's perfectly cut and labeled with all the markings because you are using the actual paper template :-).  Template making joy…YES!