Mind blowing…that's what this was for me.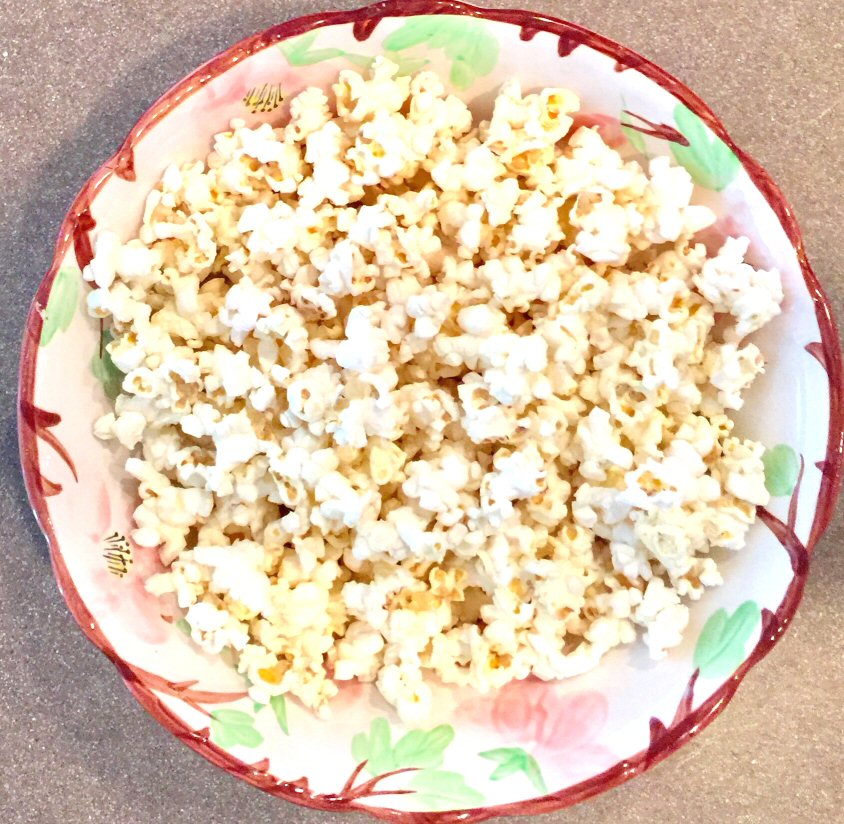 Made in the microwave…no fuss…no muss…no nasty preservatives.  You control the salt and all your favorite toppings!

I have a weakness. Yes, quilts, fabric, threads, sewing and bicycles.  But no, that's not what I'm talking about now. I have a major weakness for popcorn.  I always have. Salty, crunchy, (sometimes spicy) and always delicious. POPCORN.  Make it sweet.  Make it spicy. Make it buttery.  Make it any way you want.
I. LOVE. POPCORN.
Air popped popcorn just doesn't cut it for me and who wants to clean up that funky machine?
I love microwave popcorn…ummmmm. Have you ever checked out the ingredients for that stuff?  Uggggh.
Stove-top popcorn is awesome, but the cleanup is a hassle.
I need something fast, easy, inexpensive, relatively healthy (and OK…sometimes not so healthy if that's what I choose) and inexpensive.
So, when I discovered I can make my own microwave popcorn I was…BLOWN AWAY!
Here's what you need:
Microwave
1 brown paper bag (lunch sack size)
1/4 cup popcorn kernels
OPTIONAL toppings:  salt, butter, coconut oil, pepper, spices, caramel or any topping of your choice
THAT'S IT! Can you believe it?
Here's HOW you do it…OMG it's too easy:
Place 1/4 cup popcorn kernels (I prefer organic of any brand, but use your favorite type and brand) in a brown paper lunch bag.
Fold the bag down about 3 times with approx. 1 inch each fold; creasing firmly with each fold.
Place in the center of the microwave and close the door.
Press the "popcorn" button if your microwave has one.  If your microwave doesn't have a "popcorn" button, set it for 4 minutes and LISTEN CLOSELY.  After your popcorn has started popping, it will be done when it goes approximately 3 – 5 seconds without making a pop. If you get to the end of 4 minutes and your popcorn hasn't even started popping you either need fresh popcorn or a new microwave.
Once popped, pour the popcorn into your favorite bowl and add your favorite toppings.
Enjoy…amazing popcorn. Healthier. Tastier. And at a fraction of the cost.
Save
Save